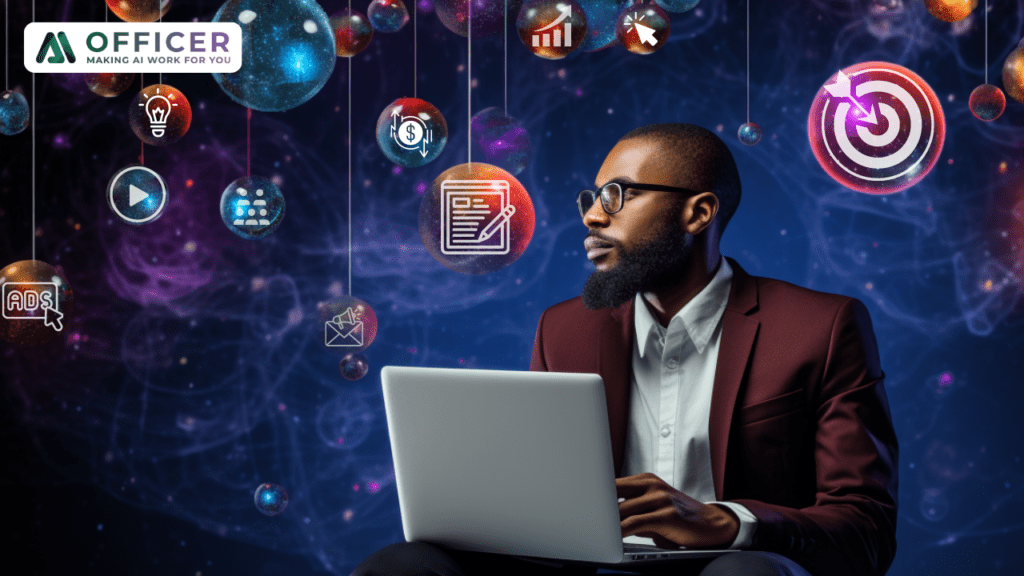 Welcome to the paradox of 2023, where Technology is your Best Friend but also an Enigma wrapped in a digital mystery.
Are you a business owner, eyeing the towering mountain of AI, wanting to harness its power but haunted by the whispers of complexity?
Who would've thought that businesses using AI for Marketing are 23% more likely to see an increase in customer engagement?
That's right, Artificial Intelligence is no longer the coffee-serving robot of the future; IT'S THE STRATEGIST OF TODAY.
Whether you're losing sleep over increasing customer engagement or trying to hit the bull's-eye with targeted ads, AI is your secret weapon. It's like having a crystal ball, but without the foggy ambiguity.
Think AI is just for the tech giants and Silicon Valley elites? Think again!
From your morning coffee to the email you just sent, AI's subtle dance orchestrates our lives. A whopping 85% of business interactions are expected to be managed without a human by the end of 20231.
Now, that's an "intelligent" move, isn't it?
But hold on, before you let the fear of losing control to machines, or nightmares of your new business being left in the AI dust cloud the horizon, allow us to illuminate the path.
With just a scroll, you'll discover seven groundbreaking AI-powered techniques that could transform your doubts into decisions, your fears into foresight.
Shall we?
Let's explore these seven AI-powered techniques that are neither rocket science nor robotic nightmares, but pathways to understanding and engaging your audience like never before.
1. PERSONALIZED CONTENT CREATION WITH AI
Tailor-Made for Your Audience
Your customer's interests and needs are like fingerprints -> UNIQUE.
AI analyzes data such as past purchases and social media activity to craft content as personalized as a bespoke suit.
Real-life Example : Online Clothing Stores
Online clothing stores are using AI to recommend products that fit customers' tastes to a T, quite literally.
2. PREDICTING CUSTOMER BEHAVIOR
Why Guess when you can Predict? AI helps you foresee customer behavior, so you're not just throwing darts in the dark.
Identify potential churners and lure them back with offers they can't refuse.
3. THE CHATBOTS REVOLUTION
Your Virtual Customer Service Agents
AI-powered chatbots are the new customer service heroes, without the capes. Always there, always ready.
Questions about flights, hotels and car rentals? They've got you covered.
4. SOCIAL MEDIA DATA ANALYSIS
Trend Tracking and Sentiment Analysis
What's buzzing? What's trending? AI not only tells you what hashtags are popular but also reads the virtual room's mood.
5. TARGETED ADVERTISING WITH AI
Imagine advertising so on-point, it's like reading your customers' minds. Create custom audiences and target them with precision.
6. Optimizing for Search Engines: Get Ready to Shine
Smart SEO : Because Nobody Likes the Second Page of Google
Let AI analyze your content, identify keywords and put your website where everyone can see it.
No more hiding in the dark alleys of the Internet.
7. ENHANCING CUSTOMER EXPERIENCE WITH VIRTUAL REALITY (VR) AND CHATBOTS
No matter the hour, AI is there to support your customers. Need to stroll through a virtual IKEA showroom? AI has got your back.
Real-life Example : IKEA's Virtual Showrooms
Walk through IKEA's virtual showrooms, all from the comfort of your home.
Ai Isn't Just A Trend; It's A Toolkit For Success.
Engage, Understand and Resonate with your audience like never before.
Feeling overwhelmed? Fear not!
Follow AI Officer for more insightful, information-packed Blogs.
You won't be disappointed. Well, unless you're still using a Fax Machine😉
You'll be AI-mazed.