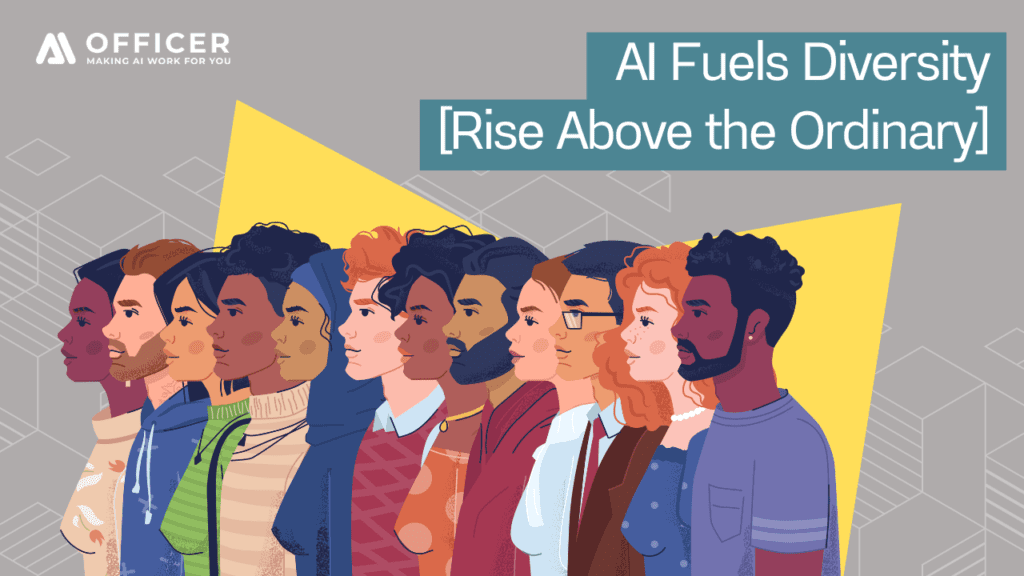 [Rising Through Ranks] 8 Effective Steps to Foster Diversity
Imagine a world where every vibrant hue of your SME's workforce is celebrated and their unique voices are amplified.
Picture an arena where AI isn't just a buzzword, but an active participant in championing the cause of diversity, equity and inclusion. Intrigued?
Rest assured, Fostering Diversity isn't just about painting a Rosy picture; it's a strategic maneuver designed to bolster your bottom line.
Ready to join the revolution and shake the foundations of traditional norms?
The Marketplace is calling Business Commanders! Let's rendezvous in the knowledge Colosseum that you've come to crave.
It's the perfect spot for SME titans to explore the echelons of diversity and inclusion, the promised land where every voice echoes, regardless of its origin. Buckle up for a whistle-stop tour through this tantalizing terrain.
1. ALL ABOARD THE AUDIT TRAIN
Let's Start With A Sharp Reality Check : Your current state of diversity and inclusion. AI can provide an impartial evaluation of your workforce demographics, recruitment and hiring practices and policies.
It's time to diagnose before we prescribe.
2. THE GOAL GALORE
Next, take your freshly audited data and crystallize some goals. Yearning for more women in management? A 20% increase within the year sounds ambitious and achievable.
Remember, a Goal without a Plan is just a wish.
3. THE BIAS-BANISHER
This is where AI comes into its own. It can sift through CVs, scan for hidden bias during interviews, and ensure your hiring practices are as pristine as a snowflake.
Impartiality, thy name is AI!
4. CULTURE CLUB : BUILDING INCLUSIVE WORKPLACES
Creating an inclusive culture is akin to growing a flourishing garden where ideas bloom, risks are embraced, and diversity is celebrated. It's time for your SME to shine with the colors of the rainbow.
5. EDUCATION ELEVATION : UNCONSCIOUS BIAS TRAINING
A Word Of Advice : Get Training! Unconscious bias training helps your workforce confront and overcome their blind spots. It's a necessary stepping stone towards fostering a truly inclusive SME.
6. THE FESTIVAL OF DIVERSITY
Let's add a dash of festivity to our endeavor. An annual diversity and inclusion event, a recognition programme perhaps?
AI can help make these events truly inclusive and impactful.
7. FEEDBACK LOOP
It's time to lend an ear to your employees. Gather feedback, and use AI to analyze these nuggets of honesty.
There's always room for improvement, after all.
8. THE ACCOUNTABILITY ASCEND
Lastly, hold yourself accountable. Monitor your progress and share the results with your stakeholders. A commitment to transparency is the surest way to rise through the ranks of diversity and inclusion.
Here you stand at the peak of diversity and inclusion. Embrace these eight steps and your journey will be truly transformative.
As titans shaping tomorrow's economy, you understand that Diversity isn't just 'good-to-have' – it's a Business Imperative, a Propeller of Innovation and Creativity.
The path to diversity may seem shrouded in complexities for SMEs, but fear not. We are here to reveal the stepping stones that will lead you across this daunting river.
Keep your eyes peeled on our social platforms and website, where a treasure trove of wisdom awaits!
Not on Board yet? Well, There's no time like the Present.
Using AI in SMEs