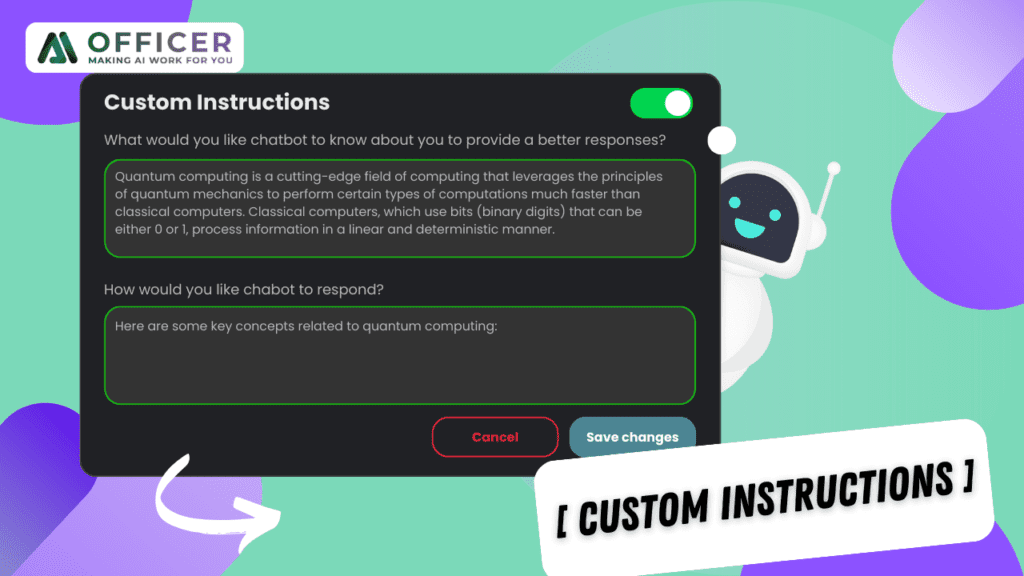 85% of AI Projects are failing to deliver on their promises and your business could be part of this grim statistic. WHY?
The answer might be simpler than you think : CUSTOM INSTRUCTIONS.
This overlooked yet crucial element could be the difference between your AI being a costly liability and a game-changing asset.
In this blog, we'll dissect what Custom Instructions are, how they can revolutionize your AI's performance and why they are the missing link you've been desperately searching for.
WHAT ARE CUSTOM INSTRUCTIONS?
The Essence
Custom Instructions are specialized guidelines that you feed into your AI system to align it more closely with your specific business objectives.
They are the secret sauce that can improve the accuracy, relevance and tone of AI responses, making your investment truly worthwhile.
The Nitty-Gritty
Technically, Custom Instructions are implemented through machine learning models trained on your unique data sets.
This ensures that the AI system understands the intricacies of your business, leading to more Accurate and Relevant outputs.
WHERE ARE CUSTOM INSTRUCTIONS USED?
Across Industries
From Healthcare and Retail to Chatbots and Virtual Assistants, Custom Instructions are revolutionizing the way AI interacts with humans.
They can be applied in Content Generation, Data Analysis and even Machine Learning models to improve user experience significantly.
For instance, in Healthcare, IBM Watson Health uses Custom Instructions to offer personalized cancer treatment plans. In retail, they can optimize stock levels and predict customer behavior, making your business more efficient and customer-centric.
BENEFITS OF CUSTOM INSTRUCTIONS
ACCURACY AND RELEVANCE
Custom Instructions help AI focus on what's most pertinent to your business, leading to more accurate and relevant responses. They can tailor AI's output to specific interests and needs, making the interaction more engaging and helpful.
EFFICIENCY AND TONE
They also reduce the time and effort required to interact with AI, allowing you to focus on other critical tasks. Plus, they help AI understand the desired tone, making interactions more engaging and relatable.
ARE CUSTOM INSTRUCTIONS AND PROMPTING THE SAME?
No, Custom Instructions and Prompting are not the same and here's how they differ :
CUSTOM INSTRUCTIONS : Think of these as your detailed roadmap for AI. You're basically telling the AI exactly how you want a task to be done, from the tone of voice to use, to the topics that should be covered. It's like giving a recipe to a chef, specifying each ingredient and step.
PROMPTING : This is more like dropping hints or giving clues to guide the AI toward the answer or output you're looking for. Imagine you're playing a game of charades; you can't say the word outright, but you can give gestures or examples to steer the guesser in the right direction.
So, while both are ways to interact with AI, Custom Instructions are more about the "what and how" and Prompting is more about leading the AI toward a specific "end goal."
The Step-By-Step Guide to Using Custom Instructions
Identify the Task : Determine what you want the AI to achieve.
Specify Parameters : Decide on the output format, target audience, and topics to be covered.
Implement Custom Instructions : Feed these guidelines into your AI system.
Test and Tweak : Continuously test the AI's performance and make necessary adjustments.
Netflix employs Custom Instructions to refine its recommendation engine, resulting in a 75% increase in user engagement. This is a testament to the power of well-implemented Custom Instructions.
If you're tired of your AI not living up to its hype, it's time to explore the world of Custom Instructions.

They are the missing link that can transform your AI from a costly mistake into a valuable asset.
For more transformative insights that can revolutionize your business, Stay Tuned to AI Officer.
This Blog isn't just a read; it's a call to action. Custom Instructions could be the key to unlocking your AI's full potential.
DON'T LET YOUR INVESTMENT GO TO WASTE; MAKE IT WORK FOR YOU