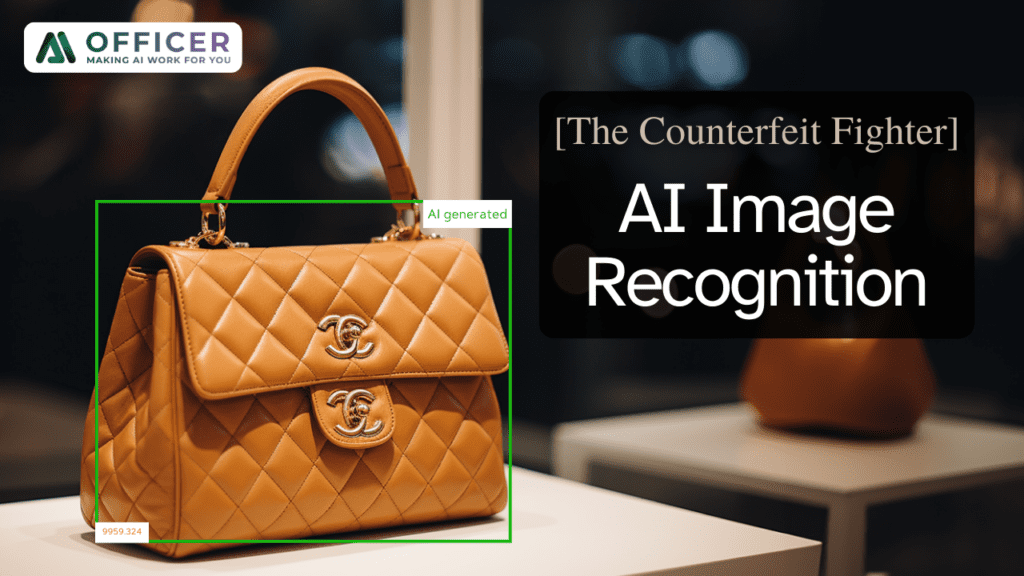 As a savvy business owner, you've probably encountered your fair share of Counterfeit Goods – those pesky imposters that jeopardize your brand, deceive consumers and add chaos to the market.
But fear not, for we bring you a formidable ally in this battle of wits and deception – AI Image Recognition!
UNMASKING THE POWER OF AI IMAGE RECOGNITION
AI Image Recognition, the masked avenger of technology, possesses the extraordinary ability to discern authentic goods from counterfeit replicas.
Like a well-trained detective, it analyzes product images with razor-sharp precision, saving your brand from potential disaster and safeguarding your customers from subpar experiences.
THE AI IMAGE RECOGNITION ARSENAL
Intrigued by the mysterious AI image recognition? Let's explore the weapons it wields to combat counterfeits :
1. Real-time Detection : The Sleuth at Work
With an accuracy of up to 99%, AI Image recognition is like a vigilant detective on the lookout for any suspicious activity.
It can instantly spot counterfeit products in online marketplaces, retail stores and even during the shipping process.
Counterfeiters don't stand a chance against this digital guardian!
2. Unmatched Training : Equipping the Hero
AI image recognition's exceptional prowess stems from extensive training.
The more data it encounters – from images of genuine products to crafty counterfeit ones – the sharper its detective skills become.
Consider it the ultimate Sherlock Holmes of the business world!
3. Global Impact : A Heroic Reach
Irrespective of your business's size, AI image recognition scales its heroic deeds effortlessly.
From startups to SMEs, this technology seamlessly integrates into your existing systems, enhancing your brand protection efforts.
CRACKING THE COUNTERFEIT CODE
According to a study by The Wall Street Journal, AI has proven to be a formidable weapon against counterfeits, boasting an astonishing 97% accuracy in distinguishing genuine products from fraudulent ones.
Notably, the counterfeit market was estimated at a jaw-dropping 1.2 Trillion USD in 2017 and projected to rise to 1.82 Trillion USD by 2022. With such colossal stakes, the need for AI-powered solutions becomes all the more evident.
DONNING THE AI IMAGE RECOGNITION CAPE : REAL-WORLD APPLICATIONS
Prepare to be amazed as AI image recognition leaps into action across diverse domains :
1. E-Commerce Avenger : Shielding Online Marketplaces
AI image recognition scans product images on online marketplaces, ensuring counterfeit products don't sneak into your digital storefront. It purges fakes, leaving your customers with genuine smiles.
2. Logistic Guardian : Foiling Counterfeit Smuggling
As packages make their way through global shipping networks, AI image recognition stands guard. It intercepts counterfeit goods, thwarting the illicit efforts of counterfeit smugglers.
3. Retail Vigilante : Cleaning Up Store Shelves
Within retail stores, AI image recognition inspects products with remarkable speed, eradicating counterfeit items hiding amongst genuine ones.
4. Manufacturing Protector : Fortifying the Assembly Line
On the manufacturing front, AI image recognition scrutinizes products during the production process, ensuring only authentic goods leave the assembly line.
THE AI IMAGE RECOGNITION SHOWDOWN : IMPACT AND CONSEQUENCES
AI Image Recognition is not just a flashy gimmick; it has a profound impact on the fight against counterfeit goods.
By swiftly identifying counterfeits, it shields businesses from financial losses and prevents harm to innocent consumers.
If you're a business owner looking to outsmart counterfeiters, AI image recognition is your Ultimate Sidekick.
For the latest insights on AI image recognition and other cutting-edge technologies, follow AI Officer and share your love by following our socials.
Stay one step ahead of counterfeiters and be the vigilante your business deserves!