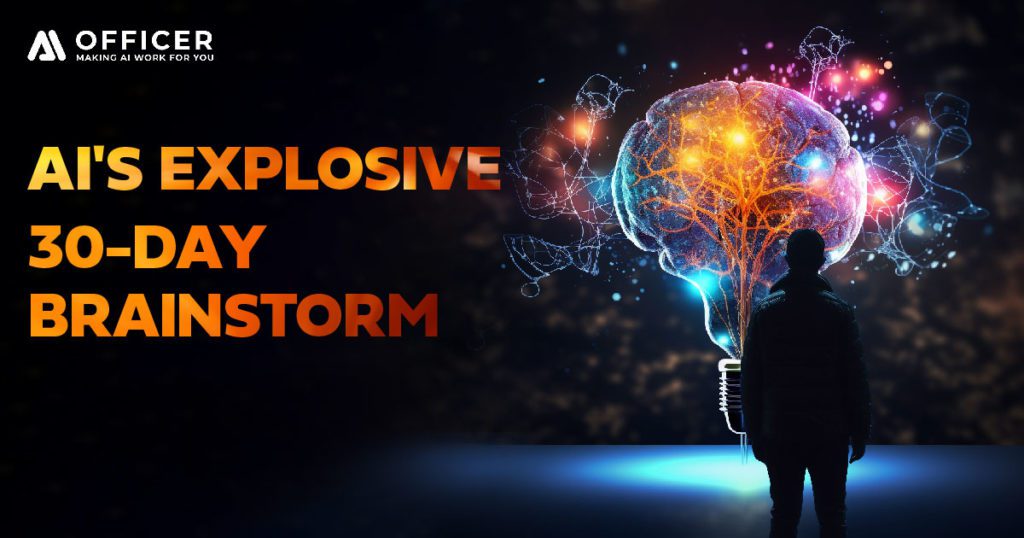 You, the ambitious business owner, combined with your AI co-thinker, collaborating to concoct game-changing business ideas. With your industry expertise and AI's analytical prowess, you can create an unstoppable duo.
Fascinated already?
Welcome to a mind-boggling journey of discovering fresh business ideas with the aid of AI.
In this blog, we'll explore how AI can be harnessed to fuel your entrepreneurial spirit, ignite your creative thinking and help you generate not just one or two, but an impressive count of 10 new business ideas within a span of just 30 days.
Brace yourselves for an exhilarating ride through the realm of AI-generated innovation, where the possibilities are limitless!
Breaking Down the Magic of AI-Powered Idea Generation
Artificial intelligence, as you may already know, is revolutionizing the business landscape, offering invaluable insights and boosting productivity across various industries.
By leveraging the power of AI algorithms, we can tap into vast amounts of data, spot emerging trends, and uncover hidden patterns that elude the human eye. With this newfound ability, AI becomes our trusted ally in exploring uncharted territories of business innovation.
Power Tools for AI-Assisted Idea Generation

In your quest for 10 extraordinary business ideas, it's crucial to equip yourself with the right tools.
Let's explore some AI-driven resources that will supercharge your idea generation process :
1) AI-Powered Trend Analysis :
Harness the power of AI to analyze market trends, consumer behavior and emerging technologies. Dive into social media buzz, conduct sentiment analysis and identify shifts in customer preferences.
Tools like TrendSpottr and Brandwatch provide real-time insights, empowering you to stay one step ahead.
2) Natural Language Processing (NLP) :
Tap into the capabilities of NLP algorithms to extract valuable information from a sea of unstructured data. NLP-powered tools such as IBM Watson and Google Cloud Natural Language Processing can help you analyze customer feedback, survey responses and industry reports to uncover hidden gems.
3) Generative Adversarial Networks (GANs) :
Use the creative force of GANs to generate innovative business ideas. These neural networks can analyze existing business models, identify gaps and propose novel solutions. GANs have the potential to push the boundaries of your imagination and inspire groundbreaking ventures.
STEPS ON HOW TO USE AI TO GENERATE NEW BUSINESS IDEAS
Choose the Right AI tool such as ChatGPT, Jasper and ShortlyAI.
Define your Target Market – Who are you trying to reach with your new business? What are their needs and wants?
Do your Research Next You need to see what other businesses are doing in your space. What are the trends? What are the pain points?
Brainstorm Ideas Use your AI tool to generate a list of potential ideas. Don't be afraid to think outside the box.
Evaluate your Ideas – Which ideas are the most promising? Which ideas are the most feasible?
Take Action – THE FINAL STEP– Choose one of your ideas and start working on it. Don't be afraid to experiment and iterate.
YOUR 30-DAY AI-POWERED IDEA GENERATION JOURNEY
Fasten your seatbelts as we embark on a month-long adventure to generate 10 new business ideas using AI. Here's a week-by-week breakdown of your exhilarating journey:
WEEK 1 : IDEATION EXPLORATION

Immerse yourself in AI-generated content, from blogs and articles to case studies and reports. Engage with AI-powered platforms like OpenAI's ChatGPT to brainstorm and refine your initial ideas.
Leverage AI prompts specifically designed for marketers to stimulate your creative thinking and extract unique business concepts.
WEEK 2 : DATA DIVING AND ANALYSIS
Gather relevant data using AI tools such as web scraping, sentiment analysis and competitor research.
Uncover valuable insights from industry reports and consumer behavior data. Apply AI-powered analytics tools like Google Analytics and Tableau to identify patterns, spot opportunities and validate the viability of your ideas.
WEEK 3 : COLLABORATE WITH AI CO-THINKERS
Embrace the power of collaboration between human ingenuity and AI intelligence. Engage in interactive sessions with AI models to brainstorm, refine and iterate on your ideas.
Leverage AI-powered chatbots and virtual assistants to simulate discussions and receive real-time feedback. Let the synergy between your creativity and AI's computational prowess spark innovation.
WEEK 4 : IDEA REFINEMENT AND VALIDATION
It's time to fine-tune your ideas and put them to the test. Utilize AI-driven predictive modeling and simulation tools to assess the feasibility and potential success of your business concepts.
Validate your ideas by seeking feedback from industry experts, conducting surveys or running small-scale experiments. This rigorous process will help you identify the most promising ideas for further development.
THE GRAND FINALE : 10 AI-FUELED BUSINESS IDEAS
After an intense 30-day journey infused with AI-generated insights, you're now equipped with not one, but ten remarkable business ideas.
These ideas are born from the fusion of your entrepreneurial spirit and AI's data-driven wisdom.
Whether it's a disruptive tech startup, a sustainable social enterprise, or an innovative service model, your ideas have the potential to shape industries and redefine success.
Follow our AI Officer for more enlightening and insightful information, as AI continues to shape the future of business.
STAY INNOVATIVE, STAY CURIOUS
LET THE AI-DRIVEN ADVENTURE BEGIN!