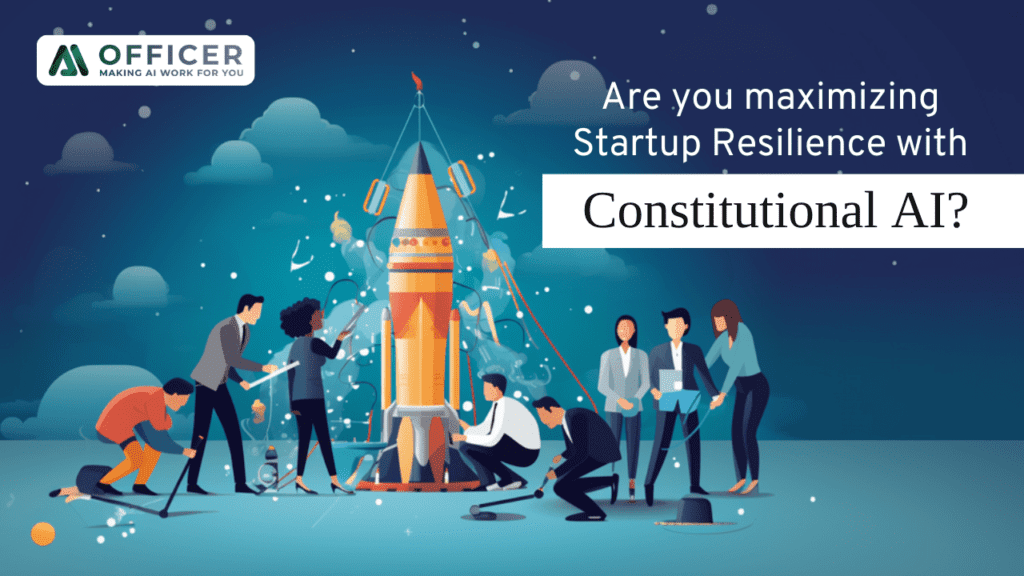 THE STARTUP LANDSCAPE JUST GOT A NEW NAVIGATOR — CONSTITUTIONAL AI
While Agility and Adaptability have always been at the forefront, Constitutional AI is emerging as the backbone for Startup Resilience.
This isn't your garden-variety AI; it's an AI aligned with human values and principles, designed to make your startup not just survive but thrive.
According to McKinsey, AI adoption among SMEs shot up by 25% in 2021, with a projected growth rate of 30% for 2023. But Constitutional AI takes it a notch higher by adding a layer of ethical decision-making, making it indispensable for modern startups.
WHAT IS CONSTITUTIONAL AI? THE NEW GOLD STANDARD IN AI ETHICS
Constitutional AI is a specialized form of artificial intelligence trained to align with a set of predefined rules or 'constitutions,' such as the Universal Declaration of Human Rights.
This ensures that the AI system is not just smart but also ethical, trustworthy and reliable.
THE STARTUP ADVANTAGE
For startups, Constitutional AI offers a unique blend of agility and ethical decision-making. Unlike traditional AI, which can sometimes be a black box, Constitutional AI is transparent and evolves with your startup's unique challenges and values.
HOW CONSTITUTIONAL AI AMPLIFIES STARTUP RESILIENCE
Reducing Bias and Enhancing Decision-Making
One of the most compelling advantages of Constitutional AI is its ability to reduce systemic bias, thereby leading to fairer and more equitable decisions. This is crucial for startups that aim to build diverse and inclusive environments.
Driving Innovation
Constitutional AI can be a catalyst for innovation. By aligning with your startup's core values, it can generate new ideas and explore untapped possibilities, setting you apart from the competition.
Safeguarding Data Privacy
In an age where data is the new oil, Constitutional AI ensures that your startup's data handling practices are in line with ethical norms and privacy laws, thereby enhancing consumer trust.
PRACTICAL STEPS TO IMPLEMENT CONSTITUTIONAL AI IN YOUR STARTUP
Identify Core Values
The first step is to identify the core values and principles that resonate with your startup's mission. These will serve as the 'constitution' for your AI system.
Train and Monitor
Once you've identified these values, the next step is to train your AI system on them. Whether you're using a pre-trained dataset or creating your own, monitoring its performance is crucial to ensure alignment with your values.
Data-Driven Decision-Making: The Constitutional AI Edge
According to Accenture, companies that make data-driven decisions are 23 times more likely to outperform their competitors.
Constitutional AI not only provides actionable insights but also ensures that these insights are ethically sound and aligned with your startup's core values.
Ready to elevate your startup's resilience with an AI that's as Ethical as it is Smart?
For more such actionable and intriguing insights, stay tuned to AI Officer.
Because in the startup world, resilience isn't just about bouncing back—it's about leaping forward.