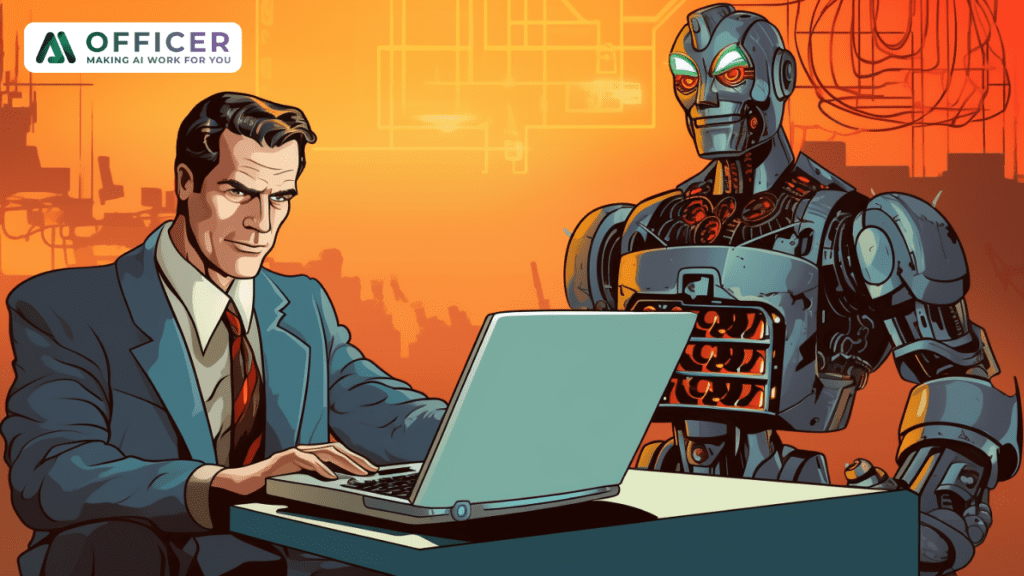 "What a brilliant writer!" – You say when you resonate with the story you just read while sipping your morning coffee!
But what if I told you that the writer was a machine?
A soul-less algorithm that crunched numbers and spat out prose?
In a twist that could rival any sci-fi plot, AI is now penning news and it's doing it with flair!
From crafting headlines that make you click to curating content that keeps you hooked, the machines are here and they're making headlines—literally.
Did You Know ? A staggering 30% of content in some media outlets is now generated by AI.
SHOCKED? Yes, We are sure you are.
But don't let the machines hear you; they might write an exposé.
Are we losing the human touch or are we witnessing a revolution that's redefining Journalism?
Dive into the five shocking truths about AI in journalism and let's explore this brave new world together.
1. THE PEN VS. THE ALGORITHM: WHO WINS?
AI Can Write News Articles
From Quill by Narrative Science to Automated Insights, AI-powered tools are crafting articles that might just fool you into thinking they were written by humans. But fear not, human judgment and creativity are still irreplaceable. Or are they?
AI Can Generate Headlines
Headline Studio by Outbrain and other tools are creating headlines that are 20% more clickable. Who needs human intuition when you have data-driven precision?
2. THE SOCIAL MEDIA MAESTRO : AI'S NEW ROLE
AI Can Curate Social Media Content
Tools like NewsWhip are playing DJ with your news feed, spinning the most popular stories right to your fingertips. Personalized news feeds? AI's got you covered.
3. THE DOUBLE-EDGED SWORD: EFFICIENCY VS. CREATIVITY
AI Is Changing the Way News Is Consumed
AI is not just producing content; it's changing how we consume it. Newspapers are so last century; AI-personalized news feeds are the future.
The Balance of Creativity
Quick content is great, but what about creativity? The dance between efficiency and creativity is a delicate one, and the industry is still finding its rhythm.
4. THE ETHICAL TANGO : A NEW FRONTIER
AI's Mixed Impact on Journalism
Job losses on one hand, new possibilities on the other. The long-term impact of AI on journalism is as clear as mud, but it's a dance worth watching.
5. CONSUMING NEWS : A ROBOTIC REVOLUTION
Forget Newspapers; AI is personalizing your news feeds, recommending stories just for you. It's like having a personal news butler, without the bow tie.
AI is reshaping journalism, offering a dynamic tool to enhance, not replace, human creativity.
By automating routine tasks, it frees journalists for more innovative pursuits, while personalizing news feeds to connect readers with relevant stories.
Embracing AI's responsible use can lead to more efficient journalism, opening doors to wider audiences and fresh, engaging ways to interact with readers.
IT'S NOT JUST A TECHNOLOGICAL ADVANCEMENT; IT'S A NEW ERA FOR JOURNALISM.
Follow AI Officer for more amazing insights that demystify AI and let's explore the future together.
Because in the world of AI and Journalism, the story is just getting started and You won't want to miss a word.